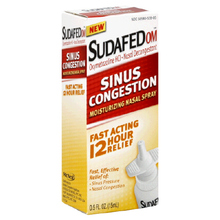 Walgreens has a register rewards promotion on certain Cold and Alergy products:  Buy two participating products $4.99 each and get a $5 RR back.  The participating products are:
Sudafed: 18 to 24 ct. PE, Nasal Mist, .5 oz. or Liquid, 4 oz.
Benadryl: 18 to 24 ct., 10 pack or Liquid, 4 oz.
Tylenol: 20 or 24 ct. or Liquid, 4 or 8 oz.
Here's how to get the Sudafed OM Nasal Mist better than free:
Buy two Sudafed OM Mist 0.5 fl oz $4.99
Use two $4/1 Sudafed OM, any 0.5 fl oz from 03-14-10 RP (this value may be regional, other areas got $2/1)
Pay $1.98 plus tax out of pocket and earn a $5 Register rewards back.
Did you spot any more deals with new coupons at Walgreens?  Make sure to share in the comments section.