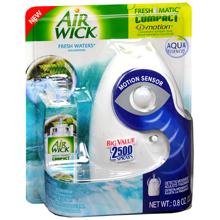 This week Walgreens has Airwick Compact iMotions on sale 50% off or $3.99 each. Use the $4/1 coupon from 8/8 SS insert to get these free. Please note that the coupon will beep at the register since it's value is greater than the value of the item. So if you have a store that doesn't adjust down coupons, you may not be able to take advantage of this deal. Thanks Who Said Nothing in Life is Free!
Here is also a HOT deal on Hot Pockets going on this week: There is a monthly register reward offer on Nestle Products: Buy $20 and get a $5 Register Reward. One of the products included is Hot Pockets and this week there is an in-ad coupon you can use to get a great deal:
Buy 7 Lean Pockets or Hot Pockets, $2.99 each (Regular Price)
Use In Ad Coupon for Lean Pockets and Hot Pockets to bring price down to $1.50 each (Will Deduct $10.43)
Pay $10.50 after coupon and get back a $5 Register Reward making these just $0.78 each box.
Sweet deal! Thanks Passion for Savings!
Here is another deal that was emailed to me. Through the end of August you can get Crystal Deodorant for almost 60% off at Walgreens. The regular price is $6.99 but you can get it for $2.99. I was checking the Crystal website for this product and it says that one bar can last you for a full year. So $2.99 for a full year of deodorant is a great deal. The product is a natural deodorant protection made from mineral salts and is paraben free.