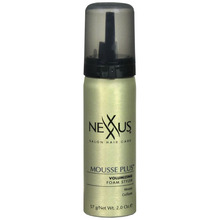 Here's another good deal available at Walgreens.  The first one is for those of us who wear Hair Mousse.  This week Walgreens has Nexxus Mousse Plus Volumizing Foam Styler 2 oz. bottles on sale 2 for $5. There's a coupon in the Walgreens November Coupon Booklet for $4 off one Nexxus Hair Care product (excludes trial size). Use this coupon to get FREE mousse. You won't get overage as the coupon will self adjust to the price of the item.
Also, the 5.1oz bottles of Nexxus Shampoo show on the Walgreens Website as selling for $4.99 regular price. Use the coupon in the booklet to get shampoo for 99 cents a bottle.
Thanks Abundant Food Savings!