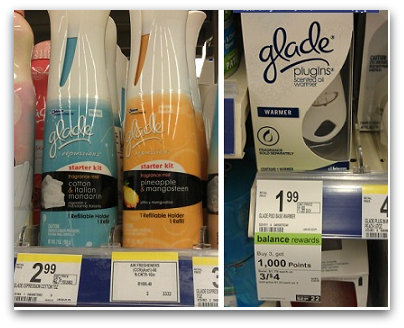 As I have outlined in my weekly store deals, we have more free Glade at Walgreens this week!  The Glade Scented Oil Warmers are not only giving you 1,000 Balance Rewards points ($1 – $1.25), it's also working for the monthly Glade PlugIns Scented Oil deal as well. So you should get an additional $2 Register Reward, turning it into a moneymaker deal.  Here are the details:
Glade Glade Scented Oil Warmer 3/$4
*Bonus Rewards – Buy 3, Get 1,000 points*
Use $1/1 Glade PlugIns Scented Oil Warmer or Starter Kit or
Use $1/1 Glade Plugins Scented Oil Warmer 08/26/2012 SS Insert (exp 09/22/2012)
Pay $1.00, get back $2.00 RR Plus 1,000 Balance points
That works out to be up to a $2.25 Moneymaker after rewards and balance points!
The Glade Expression starter kits are still producing the bonus reward so you can get this deal:
Glade Expressions Starter Kit $2.99, Get $1 RR when you buy one
Use $2/1 Glade Expressions Fragrance Mist Starter Kit (IE)
Pay $0.99, get back (2) $1 Register Rewards
That works out to be a $1.01 moneymaker after rewards. 
If you're still feeling a little unsure about the whole Balance Rewards Loyalty Program here are a few tips Wild for Wags shared that may be helpful in your shopping.  I highlighted the two I think are the most important to maximize your savings.  
If you signed up on-line you can still attach your account to an actual card in the store.
You are able to buy multiples in one transaction (like 4 Mitchum & 4 Stride ID Gum) and earn points for all of them.
If you paid with points – you still got your Register Rewards.
If you paid with points for a transaction where you should have earned more points – You DO NOT.
You'll want to pay with Register Rewards for your points transactions (if you can) and pay with points for your Register Rewards transactions.
Manufacturer's coupons did not interfere with any points earned.
Points earned show up on my receipt, making it easy to keep track.
Check out all the best Walgreens deals here.  How have you done with the new Walgreens Balance Rewards Loyalty program so far?
Thanks so much to  Wild for Wags (photo credit and tips!)