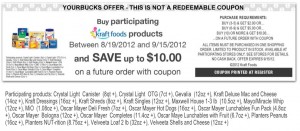 The Kraft catalina offer I shared with you yesterday morning is working at Walgreens stores as well.  Here are the items on sale:
Crystal Light $2 each
Velveeta Shells and Cheese and Deluxe Macaroni and Cheese $2
Oscar Mayer Deli Meat $2.50 (unadvertised but should be tagged in store)
Kraft Singles $2.50 (unadvertised but should be tagged in store)
Don't forget about the $1/1 Kraft singles printable coupon and the $1/1 Oscar Mayer Deli meat printable coupon available too.  That should make for some good deals.  Here are some deals you could do.  Don't forget you can mix and match, all you have to do is buy a certain number of products.  You get the best discount when you buy ten items.  I am planning on doing:
Buy ten Crystal Light $20
Pay $20 and get back a $10 Register Rewards back
That's like paying $1 each!  I am happy with this price.  You could do the same with the Velveeta Shells or Deluxe Mac n Cheese.  If you have access to enough computers and can get enough of those Deli Meat or Kraft singles coupons, you could end up getting them for very cheap.