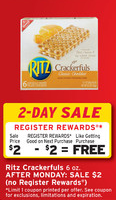 I just wanted to give you the heads up on this.  It looks like there were some supply problems and Kraft was not able to ship stock of Crakerfuls to Walgreens in time for this week's two-day sale.  As a result most stores have no stock of the crackers and those who did, had 1 box on the shelf (which you know is gone by now).  So, if you were planning on hitting this sale, you need to change your plans.
Walgreens will be substituting for other Kraft crackers such as Wheat Thins or Ritz crackers.  I do not know if they are only honoring the sale price on those substitutes or if they are also somehow printing the register rewards.  If anyone knows, please share with us in the comments.
Update!  It looks like the RR IS printing for the substitutes! That means FREE Ritz crackers which I like even better because my kids LOVE them!  Those crackerfuls were not that great anyways, IMO.
Thanks, Cheyenne!