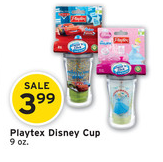 Starting tomorrow Walgreens will have Playtex sippy cups on sale for $3.99.  But you can get them for just 99 cents when you combine these coupons:
Playtex sippy cups $3.99
Use $2/1 Playtex infant product coupon (comes via email, allow about 24 hrs) or
Use $1/1 Playtex cup, plate, bowl, or Mealtime Item 5/22/2011 SS Insert (exp 6/30/2011)
PLUS use $2/2 Playtex Infant Products Walgreens Infant Care Booklet
Pay $0.99 after coupons
I just came back from doing this deal at my store since my store "turns on" the weekly sales on Saturdays and at my store these rang $3.49 actually. Also the sale was not limited to Disney cups. I bought one that had flowers and the other one had a dinosaur.  But they were both singles.