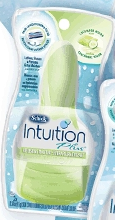 Just in case the deals at Walgreens this week are not exciting enough for you, I have a lot of great news to make them even better:
Check your local store for clearance Schick Intuition Plus Cucumber melon, reportedly they are on clearance for $2.59 each and they are also printing the $3 Register Reward for the deal available this week. There's a $4/1 coupon from 4/26 SS inserts, so you can get it all for free plus $3 in overage!
I got a couple of emails from readers and am also seeing the same thing reported on A Full Cup, Hotcouponworld and Slickdeals: The Bayer $5 register reward that's printing when you buy a Bayer meter is a monthly deal ending 5/22. Make sure to check the dates on the tags for this deal at your store.So, if your store is already out of them you have all month to take advantage of this deal. You will need to get a rain check on the price of $14.99 as this is a sale price.
The Bayer Quick Release Register Rewards is also a monthly deal. Maybe from now until 5/22 a coupon for this product will come out to make the deal even sweeter besides the $1/1 coupon from 3/22SS inserts.
If you have any questions about the details on each one of these deals don't forget to check the coupon matches for this week's Walgreens sales circular. Here are also some simple scenarios I put together to help you shop easier.