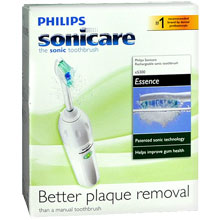 I have a really good deal on Sonicare toothbrushes for you today.  Walgreens has the Sonicare Essence toothbrushes on sale this week for $49.99 (down from the regular $74.99).  There's is also a new sheet of Walgreens coupons available in stores.  These coupons are Walgreens coupons and valid through 12/24.  You can see all of the coupons included in these sheet of coupons by clicking here (Thanks SD). So, how do I get a set of this toothbrush down to $14.99 for you?  By combining the following coupons and rebate:
Philips sonicare Essense Toothbrush $49.99
-$10 when you use $10/1 Walgreens coupon from this coupon handout
-$10 when you use $10/1 manufacturer coupon from 11/22 SS insert
-$10 when you submit for manufacturer mail in rebate (get $10 back) *see note below
=$19.99 plus if you do this deal starting on Wednesday and you will get a $5 Holiday register rewards back!
To get the $10 Sonicare Toothbrush Rebate, first register with Sonicare.  After 24 hours of registration you will get an email with up to $29.99 in savings.  You get to choose between the $10 mail in rebate for buying the toothbrush or One FREE brush head replacement (when you buy a multi-pack) – valued up to $19.99.
Happy Savings!