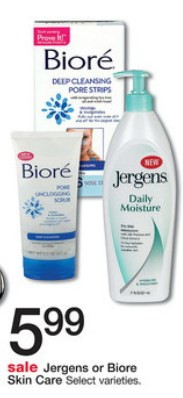 You can get a super deal on Biore products at Walgreens this week.  These products are on sale for $5.99 each (a selection of them).  Plus there is also a monthly register reward offer available on these products: Get a $5 Register Rewards when you buy two Biore cleanser, strips, or astringent (reg $7.49-$7.79).  But you know how it works!  Combine this offer, with the sale and a coupon available to get the following steal:
Buy one Biore Cleanser $5.99
Buy One Biore Strip $5.99
Use B1G1 Biore Cleanser WYB Biore Pore Strip, up to $7 08/12/2012 SS Insert (exp 09/30/2012)
Pay $5.99  and get a $5 Register Rewards back
That's like paying just $0.99 for both products.  That's about as cheap as these products get!  This monthly register reward is unadvertised this week but runs through 9/29.  If you have a store that's very good about tagging unadvertised offer you may find this offer tagged in stores.
IMPORTANT: Please note that it seems the bonus size products are not working for this Register Rewards.  If you pick up those the Register Rewards won't print.
Thanks I Heart Wags!