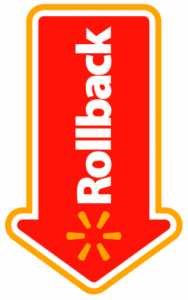 There are some good deals available at Walmart right now. They seem to be adding items to their rollbacks more often. What kind of items would you like to see go on rollback at Walmart?
Keebler Wheatables Nut Crisps or Crackers $1.96
Use $1.50/1 Keebler Wheatables Nut Crisps or Wheatables Crackers, 8.5 oz + or
Pay $0.46 after coupon
Hefty One Zip Travel Size Bags $0.97
Use $1/2 Hefty OneZip Bags
Pay $0.47 after coupon
Nexcare Original Bandages $1.50
Use $1/1 Nexcare Product printable
Pay $0.50 after coupon
Wacky Mac Pasta $1.38
Use $0.50/1 Wacky Mac Pasta, any
Pay $0.88 after coupon
Old El Paso Taco shells $1
Use $0.60/2 Old El Paso Product printable
Pay $0.70 each after coupon
Red Barron Pizza 12 Inch Price: $3.33 Was: $4.25
Use $1/1 Red Baron Pizza by the Slice 4/25/2010 SS Insert (exp 6/25/2010)
Pay $2.33 each after coupon
Tide 100 Fl oz Price: $10.94 Was: $13.97
Use $1/1 Tide Detergent 5/2/2010 P&G Insert (exp 5/31/2010)
Pay $9.94 each after coupon
Revlon Nail Clippers $1.42
Use $1/1 Revlon Beauty Tool Product 5/2/2010 SS Insert (exp 6/6/2010)
Pay $0.42 each after coupon
California Pizza kitchen (individual) $2
Use $1/1 California Pizza Kitchen Pizza 5/2/2010 SS Insert (exp 6/30/2010)
Pay $1 each after coupon
Thanks to Passion for Savings for her help with some of these deals.
I am a participant in the Walmart Moms program. Walmart has provided me the information in the post and has commissioned me to post this. Participation in this program is voluntary. All opinions expressed are my own.