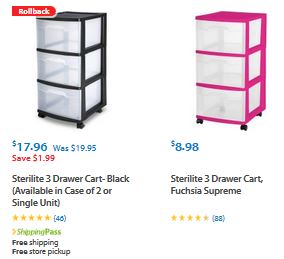 Trying to organize a few rooms in your home? Try these drawer sets! These are great to organize craft supplies, toys, LEGO's, closets of clothes and so much more! I love using them and I love it when they go on sale!
Get over to Walmart and get these Sterilite 3-Drawer carts (in case of 2 or single) in 4 different colors for only $17.96 or just $8.98 each!
And some of them will ship right to your door for FREE!