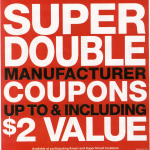 Kmart Super Doubles are just a few days away.  I know you have a lot of questions, and so did I until a few hours ago.  Lucky for us, one of my readers took the time to email Kmart and get the hard answers we all want about this event.  Here is the email she got back:
Dear CSWM Readers,

Thank you for your recent correspondence. We are always interested in hearing from our customers. We appreciate your interest in our double coupon event. This event is for select participating Kmart locations from 04-04-10 to 04-10-10.

1. You must have a Shop Your Way to Rewards card in order to have your coupons doubled.  To get your Shop Your Way to Rewards card, visit your local Kmart store or apply online at www.shopyourwayrewards.com.
2.  There is no minimum amount to spend.
3.  You can double a total of 5 coupons.  Customers may not double more than one of the same coupon.

Once again, thank you for your interest in our double coupon promotions.
For the Shop Your Way Rewards card, after you apply you get a provisional card that you can use while they mail you the "real" one.  You can also apply in stores.  I would suggest going with the provisional one on hand to save time.
So, considering that you can only double five coupons per day. I want to know, will you be doubling coupons at Kmart next week?