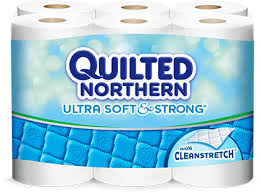 Yesterday, I gave you my review of Quilted Northern Ultra Soft & Strong and today we're giving away a one year supply of Quilted Northern Ultra Soft & Strong to one of our lucky readers! Quilted Northern Ultra Soft & Strong® combines strength and flexibility to deliver a confident clean where it counts!
How do you win this awesome prize, you ask? It's easy! Just head over to our Facebook post and answer a quick question…
How many rolls of toilet paper do you think you and your family use each year?
A random winner will be chosen  on Tuesday, June 10th at 2:30 PM Eastern Time and announced at 2:45 PM Eastern Time.
After you enter, head over to the Quilted Northern Facebook page and give them a Like! Also, make sure you check out  Emily's World to see what kind of fun experiments that inquisitive little girl has cooked up now! While you're at it, why not print a couple of Quilted Northern coupons to save a bit of money?