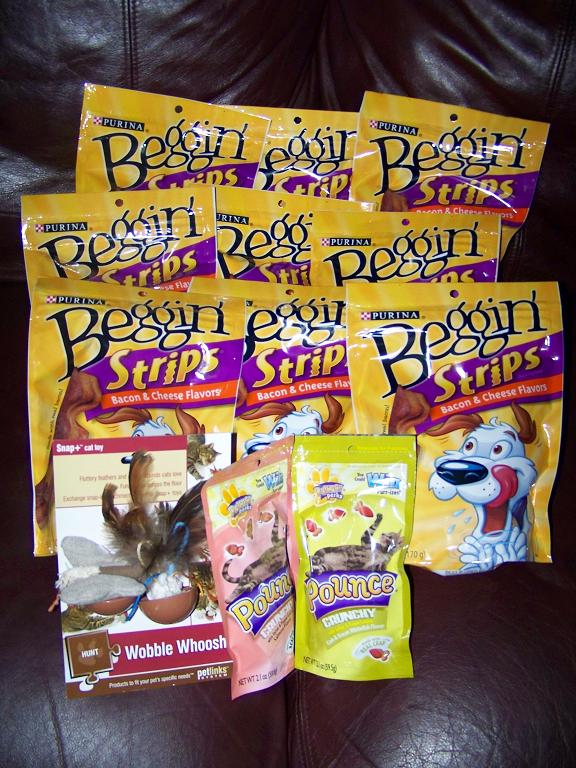 The winner of last week's Iron shopper is Kristen from Keeps Rabbitry! She loaded up on treats for her furbabies at Petsmart and paid for everything you see pictured only $3.17. WOW! I need some of those cheap treats for my dogs!
The winner of email your deal is Francis who emailed me a Healthy Choice deal at Randalls last week.  I am sorry I lacked the time to post it Francis and everyone else :-(.  I wish there were 48 hrs in the day sometimes.
Finally, the winners of the McDonalds coupons are:
Samantha says I really like the caramel frappes but need help fueling the addiction!

Kimberly S. says I think I would like any of the frappes. I can't remember what types I've tried.

Julie says I love the berry smoothie!

ming says the mocha frappe is my favorite because I'm addicted to chocolate and coffee. I drink them every week

Lu says Wild berry flavor!

Sarai says I love the caramel mocha frappe! 🙂

Dawn says I could be down for some Frappe'!

Nina Knight says mmmm…..strawberry banana smoothie…..sounds DELISH!!! hope i win!

Jennifer says Oh, I love these treats! I have tried each one and I must say the caramel frappe is my super favorite…..however, the berry smoothie was delicious…..and that mocha was so scrumptious…..oh, my, maybe I don't have a favorite after all. This is a great way to get all those antioxidant-rich berries in the kiddos and me!

bbee says wild berrie smoothie for me!
I have emailed the winners of the coupons.  if you won the coupons and don't see an email from me, make sure to check your spam folder.