I love to see big corporations partnering with non-profit organizations for the benefit of thousands of people. Right now there are a couple of these efforts I want to bring of your attention because YOU TOO can help and all it may take is your time: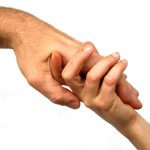 On September 10th Walmart and Jumpstart announced a joint effort to highlight the importance of early education and literacy as Walmart joined Jumpstart's Read for the Record campaign as its official Retail Partner. Jumpstart's Read for the Record is a celebration of reading, community service and fun to raise awareness about the importance of reading with young children to ensure they learn crucial early language and literacy skills. There are a few ways you can help Jumpstart and Read for the record:
Pledge to read: This year, Jumpstart's Read for the Record has set out to break Jumpstart's reading record as adults read the same book on the same day to more than one million children across the country. On October 8th simply read "The Very Hungry Caterpillar" and help break the record for the most people reading the same book on the same day.
Don't own the Very Hungry Caterpillar? Walmart is donating all proceeds from this book sales between now and October 8th to Jumpstart. Your purchase there will mean a direct donation to Jumpstart.
Donate money and help sponsor a family and community literacy event.
Join the twitter party on September 24, 2009 from 8-10pm CST. Participate by adding #jumpstart to your tweets. Every 100th tweet using that hashtag will win a free copy of The Very Hungry Caterpillar.
Another cause you can bless with your time is Welch's "Help End Hunger with Harvest of Help." Welch's has partnered with Feeding America to hopefully donate one million servings of Welch's grape Juice. To help this cause all you need to do is Click Here. Hit the "Donate Now" button. Just by doing that you have helped donate 8 glasses of grape juice. Just one click and you have donated eight servings. Don't forget to share with friends on Facebook. The more people know the better.  Thanks Coupon Cravings!
Thanks for the gift of your time!