With the Black Friday sales over, retailers are gearing up for another busy shopping day—Cyber Monday!
Cyber Monday 2015 is right around the corner! Well, that's not entirely true. Lots of Cyber Monday and Cyber Week deals have already gone live on some websites. Actually, Cyber Monday isn't exactly accurate either, since many retailers have begun to extend these savings all week. Cyber Week would be more accurate.
Find all of your Cyber Monday 2015 deals and Cyber Week 2015 deals right here in one place! In addition to publishing some of the hottest Cyber Monday deals we find, we've also published some of the Cyber Monday ads and put together lists of Cyber Monday deals from some of the more popular online retailers.
---

Check out the Cyber Monday deals for some of the most popular retailers below…
---
Best Buy Cyber Monday 2015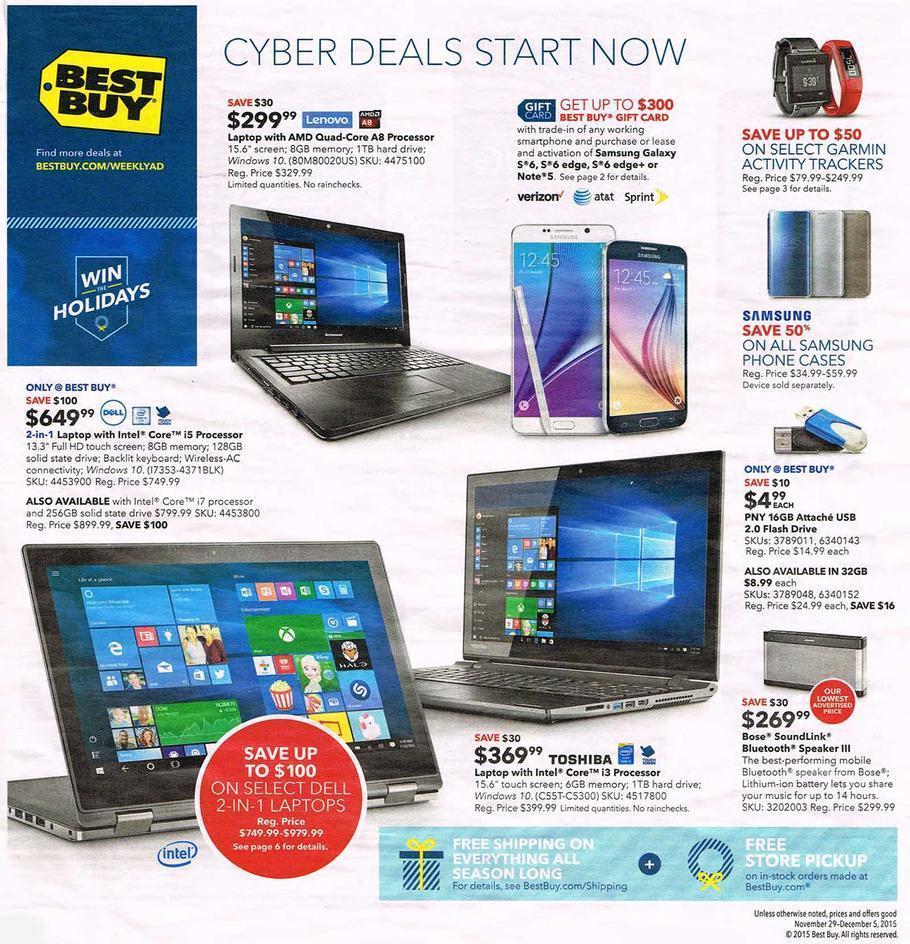 I was pretty happy with the Best Buy Black Friday sale last week; the prices were decent on most items, and the site worked perfectly—no glitches or crashes. I fully expect the Best Buy Cyber Monday sale to be just as successful!
Best Buy Cyber Monday deals focus primarily on high tech goodies, like computers, tablets, cell phones, TVs and other electronics. However, looking at the Best Buy Cyber Monday ad, you can see that there's pretty much something for just about anyone. Whether you're a homebody, toy shopper, movie buff, of fitness freak, the Best Buy Cyber Monday sale is definitely worth a peek!
Not to be outdone, Amazon will most definitely get in on the Cyber Monday action as well. In addition to their own Cyber Monday sale, Amazon will also most likely be matching competitor prices as well. So, don't be surprised to see Best Buy Cyber Monday sale items going for the same prices on Amazon.
To help you make the most of the Cyber Monday sales this week, we've published the Best Buy Cyber Monday ad and put together some lists of Cyber Monday deals.
---
Walmart Cyber Monday 2015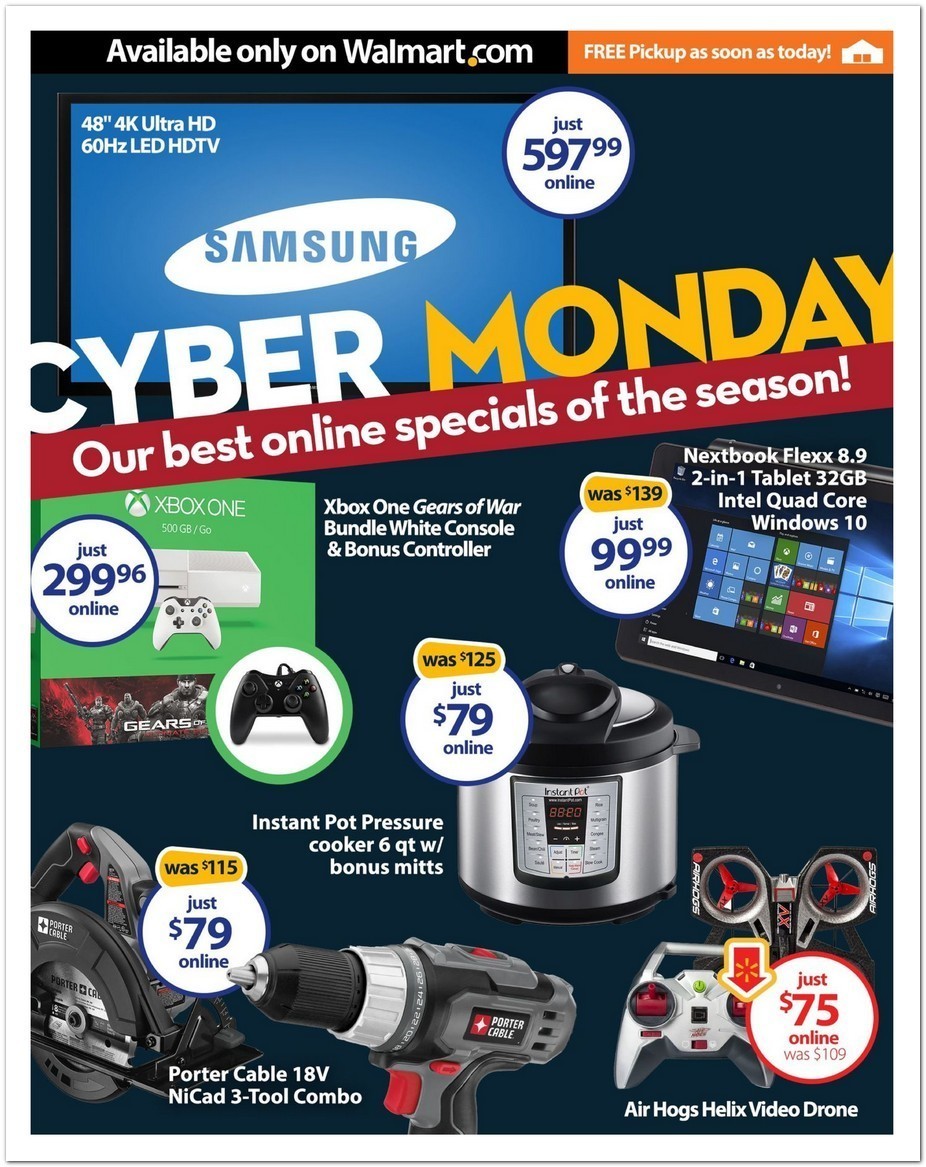 While we might see some of these Walmart Cyber Monday sales go live this weekend, I'm guessing that most of the Walmart Cyber Monday items will be available late Sunday night or very early Monday morning.
Big sales, like the Walmart Cyber Monday and Black Friday sales, usually go live at midnight PST. However, it doesn't hurt to check before this time. Amazon also has a habit of matching sale prices from its competitors, and I'm thinking that the Walmart Cyber Monday sale prices will be no exception. Because of this, I've also included a convenient Amazon button to help you check and compare prices on items quickly. It's only Saturday, and I noticed that Amazon has already matched quite a few of the Walmart Cyber Monday prices! That means that you can get some of the items on the Walmart Cyber Monday list early and not have to worry about crashes and other complications, like constant out of stock messages, on the Walmart website come sale time.
---
Target Cyber Monday 2015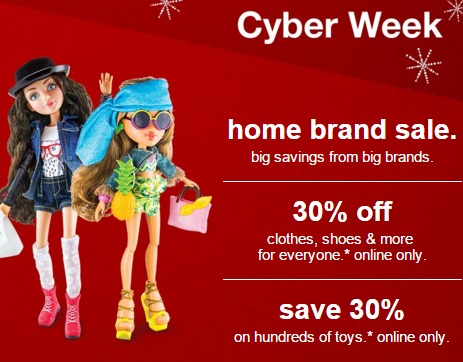 The Target Cyber Monday sale looks like it's in full swing! Don't forget that all order qualify for free shipping through the holidays right now, and you'll also get an extra 5% off when you use your Target REDcard at checkout.
---
Staples Cyber Monday 2015

The Staples, the Cyber deals are on! This includes up to $100 off select monitors and up to $300 off select laptops, desktops, and 2-in-1's. You can shop awesome deals all week long, and Staples Rewards members can get no-minimum free shipping on most deals.
---
Bon-Ton Cyber Monday 2015
Unlike other Cyber Monday sales, which extend the entire week, the Bon-Ton Cyber Monday sale is only running its Cyber Monday deals for two days only, through tomorrow. You can get no-minimum free shipping when you use the code FREESHIP right now. Other coupon codes include:
CYBERMON15N — Extra 25% off sale price merchandise (Excludes Doorbusters and select other deals)
ZCYBERMON15 — $50 off regular and sale priced order of $100 or more (Some exclusions apply.)
If you want to shop doorbusters, there's lots to choose from!
---
JCPenney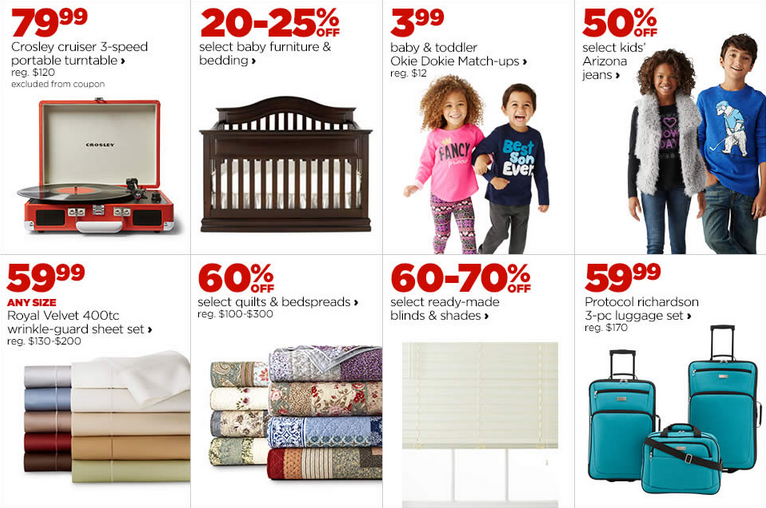 The JCPenney Cyber Monday sale is up and running, with over 50,000 Cyber Monday deals online! Plus, get an extra 33% off $100 or an extra 20% off select apparel, shoes, accessories, fine jewelry or home items with the code GR8DEAL. This coupon is valid on in-store or online purchases and shipping is free on orders of $49 or more.
---
Kmart Cyber Monday 2015

Shop the Kmart Cyber Monday sale now through Monday at Midnight! Snag some awesome deals on apparel, toys, home goods, and more.
---
Kohl's Cyber Monday 2015

Kohl's kicked off its Cyber Monday Cyber Week Spectacular on Sunday! After a pretty awesome Black Friday deals week, the awesome deals from Kohl's just keep coming! In addition to awesome sale prices, you can also get 20% off through December 1st when you use the code DEALSEEKER, and shipping is free on orders of $25 or more. Today (Monday) you can also get $10 off an apparel purchase of $50 or more when you use the code JACKPOT!
---
Old Navy Cyber Monday 2015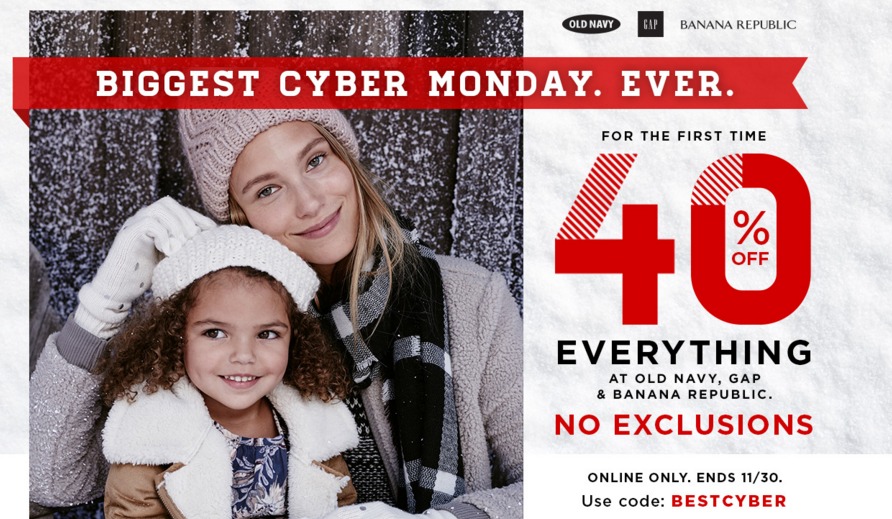 Old Navy's Cyber Monday offers 40% off of EVERYTHING, with no exclusions through 11/30 ONLY. Just use the code BESTCYBER at checkout. This code is also valid at GAP and Banana Republic.
---
Sears Cyber Monday 2015

Sears has kicked of its Cyber Monday sale, and it's definitely worth a look! You can snag some deep discounts on all sorts of goodies, from home goods to tools to apparel! The code CYBER will also get you an extra 25% off footwear, clothing, and fine jewelry!
---
6PM.com Cyber Monday 2015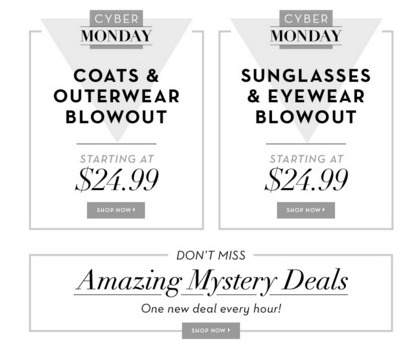 Want some deep discounts on your favorite clothing brands? Shop the  6PM.com Cyber Monday sale and use the code CYBERMON15 to save an extra 15% off your entire order. There are also lots of great Cyber Monday prices already, and a new Mystery Deal is revealed every hour.
---
The Body Shop Cyber Monday 2015
The Body Shop Cyber Monday sale includes 50% deals and no-minimum free ground shipping. Lots of bath and body products marked way down, so if you have a bath and body junkie on your list this year, this is definitely a must-see sale!
---
Still not done shopping? Be sure to check out these other online retailers for more great Cyber Monday savings!