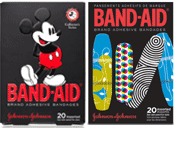 This coupon is no longer available.
You can print two different Band-Aid printable coupons on Facebook right now:
$1/1 any Band-Aid adhesive bandages and
$1/1 Band-Aid friction block stick or advanced healing activ-flex products
You could use the Band-Aid printable coupons good on the adhesive bandages to get free trial bandages for free at Target or Walmart.  Check out more printable coupons here.