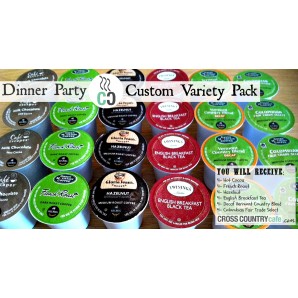 If you're a Kcup lover, grab this coupon code and use it by November 13th. Just go to the Cross Country Cafe website and enter your name and email address to get your very own $2.00 off coupon code for our Keurig Kcup Dinner Party Variety Packs! They're priced at $15.75, but you'll only pay $13.75 with the coupon.
The variety pack comes with 4 each of the following flavors:
Hot Cocoa
French Roast
Hazelnut
English Breakfast Tea
Decaf Vermont Country Blend
Colombian Fair Trade
While you're there, sign up for their newsletter and receive a FREE Fall Coffee Recipe book.