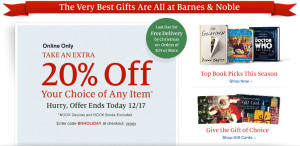 Today you can save 20% off one item at Barnes & Noble. To get the discount, just shop on the Barnes & Noble website and add items to your cart. Use the promo code BNHOLIDAY at checkout, and the 20% discount will come off of the most expensive item. This is also the last day you can get free shipping on all orders over $25 at Barnes & Noble and have your order by Christmas!
Unfortunately Nooks and Nook books are not eligible for a discount with this code, but just about everything else is!
There's also a huge Kohl's sale today! Be sure to check that out.