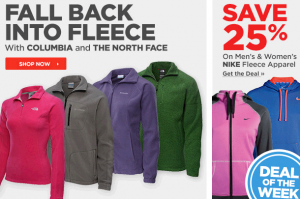 Fleece and fall seem to go hand in hand. Fortunately, for the rest of the week, you can get 25% Off men's, women's, and kids' NIKE Fleece at SportsAuthority.com.
Prices start as low as $30.00 on sale, and you'll save a minimum of $10 on anything you buy. Many items are eligible for free shipping, but some may require you to buy a minimum of $75.00 worth of apparel, so make sure you read the fine print before you check out. This sale ends on November 2nd, so you'd better get shopping!
Looking for yoga clothes instead? Get free shipping on items from Yoga-Clothing.com!