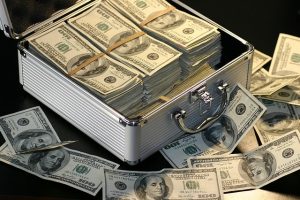 Okay guys, let's get real here.  How many of you have found yourself in a tough financial place before where you just absolutely needed to have some more money ASAP.,  It's not always as easy as just making it happen though, I get it. That's why it is time to get serious about your budget and "finding" money  that you didn't think you had.
Here are my favorite 5 tips for finding an extra $100 in your budget this week:
STOP BUYING COFFEE. Seriously.  This little thing single handedly destroys budgets of many, many people.  Make your own coffee at home and you can easily be $25 ahead for the week.

NO RESTAURANTS. Just like the coffee, eating out is a huge expense that people don't really think about.  In fact, the average American family spends at least $3000 per year on eating out. That is over $50 saved right there!

RETURN YOUR RECYCLE-ABLES.  Do you live in a redemption state?  Here in Oregon, where I live, we are charged a deposit when we buy soda, bottled water a several other drinks.  When we return them we get $0.10 per bottle or can back. Many people don't see the potential in returning this, but I do.  It doesn't take too long to end up with $10 or $20 back in your pocket!

SHOP YOUR PANTRY. Before you head to the grocery store, take a long look at your pantry and fridge and see what you actually have in there.  I'm going to bet that you have enough to create at least a couple of dishes that you don't have to pay for. That'll save you some money.

RICE AND BEANS, BEANS AND RICE! Eat cheap for a while.  It may get boring, but would you rather eating boring and keep your money or would you rather have a couple of tasty meals and be broke.  Seriously, beans, rice, eggs and oatmeal are all very inexpensive meal ideas that will help put you in a different financial spot.
What's your favorite way to save or earn money in a hurry?