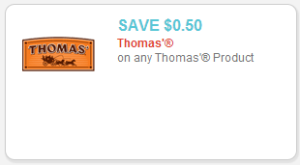 This is a great coupon to have in your binder, especially if your store doubles coupons! You may need to change your location to Texas zip code 77477 to print this $.50/1 Thomas' product coupon, if you don't see it right away.
Thomas' English muffins and Thomas' swirl bread are both on sale right now for $2.99 at ShopRite, so just $1.99 each after coupons! Thomas' English muffins are also on sale BOGO at Publix. If your Publix store doubles coupons, that could make for a pretty sweet deal!
Remember, You can usually get two prints from each coupon. To get a second print, just come back to this page and click on the coupons you want again. It'll save you some time and frustration searching, and each one will open in a new tab. If you can't or don't use all of your coupons, don't forget to pay it forward.