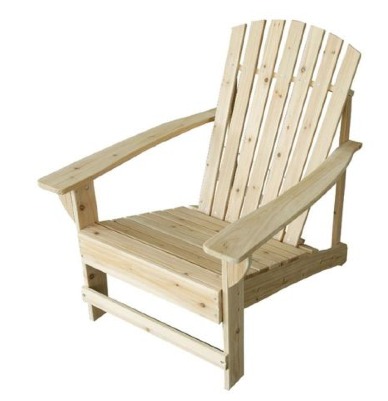 UPDATE: These are no longer available online.  I will keep an eye on them to see if they become available again.
If you love Adirondack chairs but do not love the hefty price tag (at least $99), here is a deal you may want to consider.  It includes a bit of DIY but worth the savings if you ask me.  Home Depot has these unfinished Aditrondack chairs (model no. 11061-1) for just $29 and they ship free!  These are regularly $49.
They require simple assembly and then you get to paint them whichever color you would like.  Here are some of the reviews on the Home Depot website:
MrCastle52

from Dorchester, Boston, MA, USA

I bought 4 of these chairs because they were a good deal on sale and free shipping!I put the chairs together over a couple weekends, and it was easy to do especially by the last one. You get extra bolts which was weird to me, but now i have a bunch of extras just in case.  I sanded the wood before I started and I think it definitely helped. It just made things smoother to work with. Once I had the chairs put together, I primed, painted and clear coated the chairs. We bought some cushions for them, and now people comment on them all the time about how professional they look.  All in All for the price + time and effort, I say it was a great buy. I'm sure I'll have to replace them in a couple of years, but for what I paid for them, I don't see it being a problem.
BBbb

I was a little apprehensive about the chairs due to the inexpensive price. They are perfect! High quality, super easy to assemble…very much worth the price!!
This is a great way to get the look for a lot less.