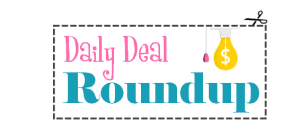 We thought we'd try something a little different and post a couple of deal roundup posts every day. This puts all of the deals together in one place so you can find them easily. This is our first afternoon deal roundup.

Let us know if you like the idea!
We're giving away a $40 Red Lobster Gift Card today as well. Good luck to everyone who enters!
First up, some coupons and a freebie…
Here are some other deals you may not want to miss today…
Did you know we're teaming up with Cricket Wireless again for their Ask the Experts series? Be sure to check it out and ask your own questions on finding deals online!
And, of course, don't forget to download your FREE Kindle books for today!
Don't forget to Like us on Facebook and follow us on Twitter to get deals as soon as they're posted!