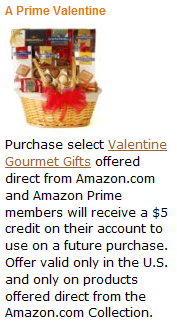 Amazon is offering a free $5 credit when you purchase any Valentine Gourmet Gift.  You can see this promotion advertised on the right hand side of this page.  And all the eligible products are listed here.  Limit one credit per customer and you must have  an Amazon Prime membership.  There are some cheap finds to be had:
FunkyChunky Mini Popcorn, 8-Ounce Canister
$7.23
Twix Caramel Fun Size Candy, 11.4-Ounce Packages (Pack of 5)
$11.46
sweetriot Cacao Nibs Covered in (65%) Dark Chocolate, 1-Ounce Tins (Pack of 4)
$11.64
Ghirardelli Chocolate Premium Hot Cocoa Mix, Double Chocolate, 16-Ounce Tins (Pack of 4)
$16 or less if you choose subscribe and save
This promotion is only available through 2/10.  The Promotional CREDIT will be added to your account if you are a PRIME Member on 2/18 and you have until 8/31/11 to use it.