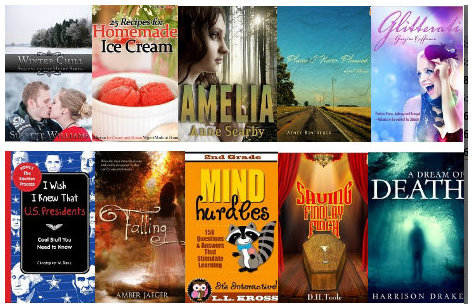 Thanks to my friend and fellow blogger over at Jessica's Coupons you'll be able to check out this huge list of free kindle books currently available. 
Please note that Amazon changes their offers without notice, so please make sure they are still free before you start downloading them:
Fiction
Mystery, Suspense and Action
No Commitments
A Dream of Death (Detective Lincoln Munroe, Book 1)
Harbored Secrets
Saving Findlay Finch
Romance
The Abducted Heart (Sweetly Contemporary Collection)
Only Forever – A contemporary romance short story inspired by true events
The Last Bride in Ballymuir (Ballymuir Series)
West Beach Wives
Paranormal, Fantasy and Sci-Fi
Siren Nights (Series Part 1) (The Lure)
Secret Street (The Secret Street Saga, #1)
WICK (Wick Series)
Edgewood (Edgewood Series)
Christian and Religious
A Faithful Soul, Engineering of Flight Series
Reservations for Two
Winter Chill (Seasons of the Heart)
Contemporary
Glitterati
Places I Never Planned
Classics
The Iliad
Non-Fiction
Writing Advice for Teens: Creating Stories
I Wish I Knew That: U.S. Presidents: Cool Stuff You Need To Know
The Secret Place
The Arbuckle Cafe: Classic Cowboy Stories
Cookbooks
25 Recipes for Homemade Ice Cream: Delicious Ice Cream and Frozen Yogurt Made at Home
35 Thai Recipes For Weeknights – The Thai Food Recipes Cookbook (Quick and Easy Dinner Recipes – The Easy Weeknight Dinners Collection)
Children
Petal the Owl Counts to Ten
Mind Hurdles: Grade 2: 150 Interactive Questions and Answers That Stimulate Learning
Tales From Old Oaktown: Raccoon Rodeo
Ten Kittens
Adolescent
Beyond Tomb Mountain (The Swift Chronicles)
Escape to Bastian (The Adventures of Calvin Townsend)
School Is A Nightmare #4 Yuck Mouth And The Thanksgiving Miracle
Falling (The Hemlock Bay Series)
Lunar Regeneration (The Immortal MacAbres)
Sleeper (Sleeper Series)
Amelia
Dreams Unleashed (Dreams Unleashed, Book 1 of The Prophecies Dystopian Trilogy)
Remember that you do not need a Kindle e-reader to be able to read this book. You can read it on your PC, iPhone, iPad
, Blackberry and Android. Just download for free the appropriate application to be able to do that. Amazon changes prices without notice, so make sure to check that the kindle price it is still $0.00 before you start downloading this book.