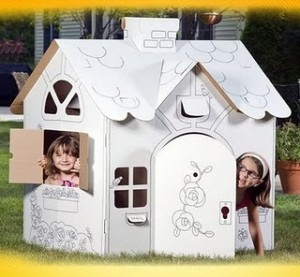 Update: I just wanted to give you an update on this deal. It looks like Gaggle of Chicks had some problems when the emails with the codes went out after your purchase. They are working hard on resending the emails and you should get it within the next 24 hours.
Today at Gaggle of Chicks you can get a Box Creations Playhouse for just $5.  Here is how:
You will get an instant $10 credit for free for creating a new account.
Grab the nationwide deal of $15 for a Box Creations playhouse (reg $39.95).  This is a voucher thatw ill let you buy one of tehse playhoses and have it shipped FREE
After your credit you will end up playing only $5 for this voucher.  Then you can order your playhouse and have it shipped FREE.
I think these are GREAT!  The kids can color them and make them their own.  They come in the following designs:
-Princess Carriage
-Medieval Castle
-Pirate Ship
-Country Cottage Playhouse
-Space Shuttle
Thanks Adventures in Savings!