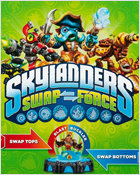 If you were able to grab a Skylanders SWAP Force Starter Pack in all the craziness this Black Friday, why not grab a few extra characters to go along with it? Right now on Amazon, you can buy 2 Skylanders SWAP Force characters and get one free
! To take advantage of this deal, the Skylanders figures you buy must be sold and shipped by Amazon.
Prices start at around $10 for single characters and $25 for three-packs. You can also get free shipping if you're an Amazon Prime member or if you buy $35 worth of eligible merchandise.
Sign up for the daily Common Sense With Money newsletter and Like our Facebook page so you don't miss any of the awesome Amazon deals I find throughout the day.