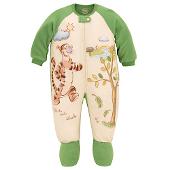 Looking for some fleece blanket sleepers?  We are, we just got a foot of snow last night!  Both The Children's Place and Disney store are running two good sales today:
The Children's Place has these Blanket sleepers for $5.59 and shipping is a flat rate of $5.  Use code GGAC9 for additional 15% off at Childrens Place.   Thanks Ana!
The Disney Store has blanket sleepers as deal of the day for $6 each (see link on left side of the landing page). As you know I love Disney Store pajamas and I do have a couple of these for my two year old and they are warm and soft. Shipping is $2.95 when you spend $10 or less. $4.95 when you spend between $10 and $25 and $5.95 when you spend between $25 and $50. You can get free shipping when you spend $89 or more. That would be a lot of PJs!
These blanket sleepers run from 0 months to 3T.
Happy savings!