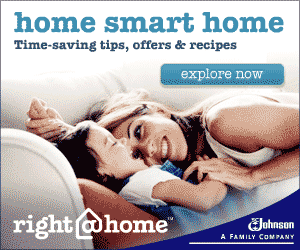 If you haven't signed up for this newsletter you are missing out on a great opportunity to receive tips, coupons and chances to enter giveaways delivered to your email.
Right@Home is put out by the very generous folks at SCJohnson. These are the people that put out those great coupons for Glade Plug ins or the $10 Scrubbing Bubbles coupon that was so hot a couple of months ago.
Do not forget to check out next weeks Walgreens preview over at Money Saving Mom on Sunday where you can see some deals I have put together to get some of these products very cheaply. Some scenarios are moneymakers. You will need some of the coupons available though this newsletter to take advantage of some of these deals.
Here's a small preview of the Register Rewards offer:
Buy SC Johnson Products: buy 2, get $2, Buy 4 get $5, buy 7 get $10
On sale for $2.49: Shout Spray or Wipes, Fantastic, Windex Spray or Wipes, Scrubbing Bubbles Wipes
On sale for $ 3.79: Pledge Spray or Wipes, Scrubbing Bubbles Shower Foamer, Drano Gel, Scrubbing Bubbles Action Scrubber
For detailed deals check Crystal's blog on Saturday.

Happy Savings!