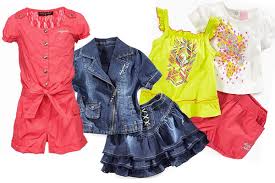 As parents, we often spend hundreds of dollars on clothes each year. From Back to school clothes to winter clearance to spring blowouts, it seems like every time I turn around, I'm dropping money on kids' clothes. Even when I get smokin' deals on the kids's clothes, it all adds up and before I know it, I've spent a small fortune.
Don't get me wrong—I'm not complaining. Too much. I know it's part of Mommyhood, and I want the little buggers to look presentable. Buying kids clothes can be pretty frustrating, though, especially when the kids will grow out of them within a couple of months or have them covered in grass stains, chocolate, and who knows what else!
Since my kids' clothes don't last long, I really look for ways to save money and make the most of the clothes that they do have. Some money saving tricks for saving money on kids' clothes are obvious, like shopping sales. Some, however, may not be so obvious.
Here are a few tips and tricks that I've picked up over the years that have saved me tons of money on kids' clothes!
Know Kid's Clothes Sizes
The biggest reason I can save so much on my kids' clothes is because I know their sizes! This allows me to confidently pick up clothes for the kids when they aren't with me and I run into an awesome clearance sale. Not only do I know what typical size they usually wear, but I also use a crude measuring system while in stores to see if a particular item might fit. For instance, I know exactly where my daughter's jeans should come to on my leg for them to be long enough for her and I've marked my purse strap to help measure the waistbands of jeans that might fit my son. Sounds weird, but it works like a charm!
Shop a Season in Advance
Buy winter clothes in the spring and summer clothes in the fall. Buying clothes out of season helps you stay ahead of growth spurts a little, and save a ton of money! If your kids are growing fast, though, you'll want to buy a size or two larger than they're currently wearing.
Try In Store, Buy Online
If there's a particular article or brand of clothing that one of the kids just has to have, we usually try it on at the store and take not of the size. I will watch for in-store sales, but I usually find that I can get much better deals on the store websites. Just find the same items on the store websites and keep an eye out for applicable coupon codes and sales.
Keep it Plain and Simple
Clothes that can be mixed and matched not only make things easier on hectic mornings, but they can also save you some money in the long run. If all of your kids' tops go with all of their bottoms, there's really no need to buy any special (and probably expensive) additional apparel just to make a matching outfit. I usually try to buy clothes for the kids in solid colors, traditional patterns, and similar colors. It also helps that both of my kids live in plain jeans!
Buy Throughout the Year
I used to absolutely hate August! A new school year looming on the horizon usually meant that we would have to drop hundreds of dollars on brand new clothes for the kids. With money being tight, it was usually difficult to set aside money for new school clothes each year, so we'd usually end up spending the majority of a paycheck or two on school clothes. All that has changed now, though, since I've started picking up clothes throughout the year and stashing them. By buying a shirt here and a pair of jeans there every now and then, I can usually build up an entire wardrobe for each of the kids by the time a new school year rolls around. I only have to pick up a few basics and we have the chance to splurge on a couple fun items!
Save Expensive Splurges for Gifts
My son has been after an Under Armour hoodie for quite some time now. Unfortunately, I can't see the point of spending over $30 on a kids' hoodie, especially when money is tight and he'll most likely grow out of it in no time at all. I did finally break down and get him an Under Armour hoodie, but it will be included in his birthday presents this year. I know that most kids don't get all excited about getting clothes as gifts, but I know he'll be stoked!
Do you have any other tips to save money on kids' clothes? I'd love to hear them!