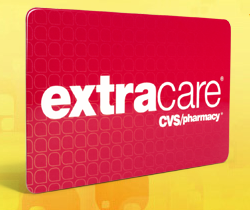 Couponing at CVS is a trip! I personally love my CVS store. The employees are super friendly, the shelves are almost always stocked, and I usually feel like I robbed the place when I leave.
When I first started couponing at CVS, I just scanned my card at the red magic coupon kiosk at the front of the store and went on my merry way. Little did I know, there was a whole 'nother way to save even more at CVS. It wasn't until I had been couponing at CVS for a few months before I discovered CVS ExtraCare online…
If you aren't already signed up with CVS ExtraCare online, I highly recommend it! There are quite a few perks. For instance, after you set up your account, you can:
get sneak peeks of the next week's local ad
find out which CVS store coupons you have available to print
send your CVS store coupons to your card
get exclusive CVS coupons
earn bonus ExtraBucks
Setting up your CVS ExtraCare online account is pretty quick and simple, too.
1. Head over to CVS.com/extracare.
2. Click on the "Sign In" button, then choose to create an account.
3. Once you've created your account, you'll be taken to a page where you can link your existing ExtraCare card or get a new one.
4. If you didn't already link your ExtraCare card when you signed up, click on the "Link your card" button.
5. Enter the information from your card. Your ExtraCare card number is located on the back below the barcode.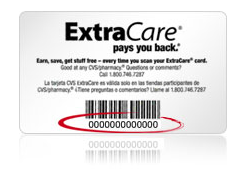 After you set up your CVS ExtraCare online account, it's a good idea to sign up for CVS ExtraCare emails. Click on "My Account" and scroll down until you see options for "Email Communications". Occasionally, you'll receive bonus coupons, like those great percent off coupons of $/$$ coupons, as well as bonus ExtraBucks! You won't get bombarded with emails, so you can use your regular email so you won't miss any of the great coupons and Bonus ExtraBucks. These coupons are usually only available to CVS.com members who are signed up for emails, and they won't print at the red coupon kiosk when you scan your card.
Now that you've signed up for CVS.com emails, you'll also want to sign up for the CVS ExtraCare Beauty Club. You'll receive $5 ExtraBucks for every $50 you spend on qualifying beauty purchases, including cosmetics, fragrances, hair, and skin care products. You'll also receive a 10% off Savings Pass when you first sign up and exclusive coupons via email.
By now, you should be all signed up for CVS ExtraCare online. Now it's time to go exploring! All of your current ExtraCare and bonus ExtraBucks can be found when you click on the ExtraCare tab at the top of the page. Check under "Savings & Rewards" to print or send your store coupons directly to your card!
More Frugal Living Resources: