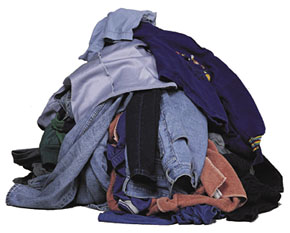 If your wardrobe is full of old clothes, don't hurry up to throw these clothes away. You can actually make use of old clothes and restyle them, saving a lot of money and time by doing so. You will also get in touch with your creative style and personalize your fashion style by wearing something unique.
There are many creative ways of reusing clothes. If you don't have the time or the money to go from shop to shop till you find the perfect outfit you can still create something nice with the clothes you already have.
Greeting Summer
If you have an old t-shirt lying around, you can turn it into a fringe vest or a crop top. Get creative and follow the trends without having to spend a fortune on clothes.
Lace Insertions
There's nothing sexier or more feminine than lace insertions. There are many DIY projects that can teach you how to combine lace with different fabrics. So if you want a summery, sexy look, lace insertions can repurpose any old clothes.
From Skirts to Dresses
If you like wearing maxi skirts but are bored of some of the older designs, you can turn a maxi skirt into a dress. A girl will never have enough dresses, so this DIY project will definitely come in handy.
Chiffon Insertions
You can insert chiffon at the bottom of a shirt, dress, jeans, skirts, you name it. Chiffon insertions are easy to design. You can pick the same colors (even if you're handling different fabrics) or choose complementary colors. If you're aiming for an edgy look, you can try contrasting colors.
Dotty Jeans
Simple jeans deserve a makeover. You can take different staples and use clothes paint to come up with some amazing designs for your jeans. You'll be renewing your wardrobe without even trying too hard.
Little Details Matter
If your old clothes have pockets, use color pops to repurpose an older design. Little details matter. If you color your pockets, you will enjoy some fancy looking clothes. It's hip, it's trendy, it's easy to design such looks.
Shredded Clothes
This idea is easy to follow. It doesn't require sewing or inserting other fabrics. Shredded clothes are definitely in this season and if you love being a little rebellious fashion-wise this is the look to go for. Be edgy, be daring and enjoy some "new" clothes without actually buying them.
Cool Aprons
If you love cooking, chances are that you also need a new apron. Find an old t-shirt and repurpose it into a new apron. Problem solved.
Side Gathered Clothes
Everybody loves side gathered clothes; they seem incredibly sexy and with the right DIY tutorial, you can pull such a look off with ease, by turning an old shirt or dress into a side gathered design.
Lace Sleeves
If the weather is a bit chilly, you can always use lace to save the day. Lace sleeves are very alluring and they go well with mostly any kind of fashion style.