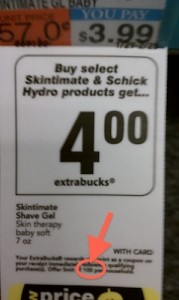 It looks like there is an unadvertised offer or Skintimate and Schick Products at CVS: buy any select product and get a $4 Extra Care Bucks back.  Among the products included are the shaving gels and those are priced starting at $3.89.  It also looks like the tag advertising this offer says the limit is 100.  I haven't heard of anyone maxing that out yet, but you know there is someone out there testing that theory and clearing out all the shelves.
Sarcasm aside, I do want to warn you that I think the high limit may be a glitch.  I would also not be surprised if it turns out that the deal is not $4 Extra Care Bucks when you buy any but something more like $4 Extra Care Bucks when you spend a certain amount of $$.  What I am trying to say is that this deal may be modified by CVS corporate sooner rather than later.
Thanks Maven of Savin!