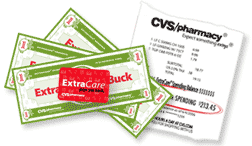 Here are two two CVS transaction scenarios for those of you who are getting started playing the drugstore game.  Remember that the best way to play the drugstore game is by breaking up your transactions.  That way you use the Extra Care Bucks from the previous transaction to lower your out of pocket expense on the next.  In my opinion, you can easily do two transactions back to back at the register.  But make sure to have your coupons ready, as to expedite the process.
For these scenarios, I am going to assume you do not have any Extra Care Bucks on hand for the first transaction and are just getting started:
First Transaction
Buy one Russell Stover, single egg 1 oz or chocolate bunny $0.74 (deal available through Tuesday only)
Buy one Super Miracle Bubbles 16 oz $1.99 (deal available through Tuesday only)
Buy three bottles of Honest tea 3/$4
Use two $1/1 Honest Tea (Recyclebank coupon 50 pts)
Pay $ 4.73 plus tax out of pocket and get back one $3.73 in ECBs
Second Transaction
Buy two boxes of Kelloggs Raisin Bran cereal $1.66 each
Use two $0.70 Kelloggs Raisin bran cereal coupons
Use $1.74 in extra care bucks from the previous transaction
Pay$0.18 plus tax out of pocket
In sum, you get $10 worth of products for $4.91 out of pocket but still have $1.99 to spend on something else for a next cost of $2.92.
If you are new to Recycle Bank:You can earn points easily.  After you sign up, just visit the "Earn Points" tab and complete the following activities:
Aveeno Active Naturals Facebook Pledges