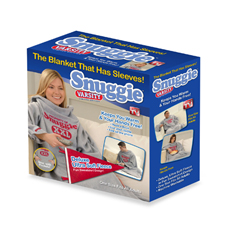 This week the CVS coupon scanner is printing a coupon for $3/1 As Seen on TV product.  You can use that coupon to grab the following deal on the Varsity type Snuggie:
Snuggie varsity $14.99
Use $5/1 Snuggie Varsity Blanket (use zip 60712)
Use $3/1 As seen on TV CRT printing at the scanner
Pay $6.99 after coupons
A few days ago I was reading an article (can't find it just now) about the total success Snuggie blankets have been.  It seems over the past year people been saving money by staying home more watching TV with comfy in their Snuggie.  Do you have one?
For fun you can watch this hilarious Snugarena video.
Thanks Chi Town Cheapskate!