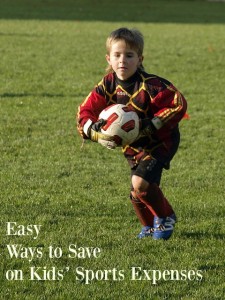 Did you know that parents spend, on average, over $500 per year on their kids' sports expenses?  This is a per kid estimate.  That means if you have more than one child, you are likely spending over a thousand dollars per year!
Between sports fees, gear requirements and gas money to get to countless practices and games, the expenses are non-stop.  Follow these tips to cut back on these expenses:
CAR POOL
Get together with other parents and come up with a carpool schedule.  You likely don't need to be at every practice anyway.  Split these duties with other parents (chances are they need a break too!).  Carpooling is a great way to save money and time!
SKIP THE HIGH END GEAR AND APPAREL
We all want our kids to have the best, but here's a truth.  Your kids are just that.  Kids.  That means they will quickly grow out of those $150 shoes they are asking for.  Why not settle on the $75 shoes and revisit the expensive ones once they become teens and their feet are done growing?  The same is true for bats, helmets, gloves, etc.  This doesn't mean that you have to go with the low end, low quality gear, but somewhere in the middle is just fine.
VOLUNTEER
Do you have any extra time to spare?  Consider volunteering for the kids' sports league.  They may be willing to offer a break on the fees.  These leagues are often in need of volunteer help!
BUY SECOND HAND GEAR
Sports gear is often used for a only a short period of time.  Why not check places like Ebay or Play it Again Sports to get a large discount on the items you need?
INQUIRE ABOUT SCHOLARSHIPS
Most kids sporting programs have scholarships built into their budget.  It never hurts to ask if you qualify for these.  Oftentimes, the income requirements are much higher than you would think.
PUT A LIMIT ON ACTIVITIES
Not long ago we decided to put a limit on the amount of activities that our kids can do.  We allow them 2 sports or activities per year.  This little trick has saved us hundreds of dollars in expenses and gained us some quality family time.
The fact is that even if you think you can't afford for your kids to play sports, you probably can.  You just need to be creative and mindful of where your money goes.
Do you have any money saving tricks that you use when it comes to your kids activities?