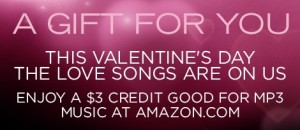 If you a member of the private sale site My Habit, check your email inbox.  Yesterday 2/14 My Habit sent its members an email with the subject "Our Valentine Gift to You: Music from Amazon MP3."  This email includes a unique code good towards a free $3 credit to the Amazon MP3 store. Once you add the code to your Amazon account, you have until 3/15 to use it.
You may want to consider joining My Habit.  They sell nice items for less and my favorite thing is that the site offers free shipping on ANY order.
I love free music!   I was quick to download It Will Rain by Bruno Mars with my free credit.  I have been wanting that song for weeks! But didn't want to pay the 99 cents for it!  Patience paid off for me!