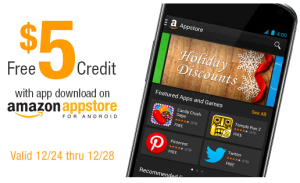 Amazon wants to give you a free $5 credit for the Amazon Appstore! All you have to do is download any Android app, including free apps.
Here's how to get your $5 credit:
Download the Amazon Appstore, if you don't already have it on your Android device.
Open the Appstore and download any app or game, even a free one.
That's it! You'll receive a confirmation via email once the credit is added to your account. Processing may take up to an hour, but Most credits are applied within a minute.
A couple things to keep in mind… First, you must have version 7.5 or greater of the Appstore. If you have an earlier version of the Appstore, go to "Settings" > "Version and Release Notes" and tap "Check For Update".
Also, purchases from a Kindle Fire do not qualify.
Today's FREE app of the day is Piano Master Christmas Special
.