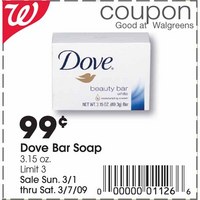 I just found out about another freebie you can get at Walgreens this week. There is a monthly Register Rewards promotion going on right now through 3/28 on Dove Products: Buy 4, get $2, Buy 6, get $6, Buy 8, get $10.  This promotion is unadvertised but you may be able to find tags at your stores.
The individual Dove Soap bars are included in this deal.  They sell regularly for $1.59 but there's a coupon in page 9 of this week's ad that makes them $0.99 each.  You can get paid to buy eight.  Here's how your transaction would look like
$12.72 when you buy eight bars
-$4.80 when the in-ad coupon gets applied to your order
=$7.92 plus tax out of pocket and you get $10 RR back!
I may be making a mid-week visit to my own store tomorrow. These and the Johnson's Baby products are great for donating.  Then I can use both $10 RRs I get from both deals to lower my out of pocket next week when I buy the Huggies Diapers.  Don't forget to check the rest of weekly Walgreens deals here.
Thanks Thrifty Mama!
ETA:  Enforcing the coupon limit will depend on your cashier.  The coupon or register will not enforce a limit on their own.