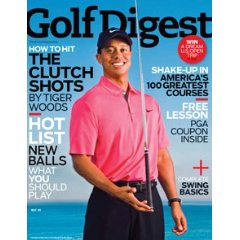 Here's a nice freebie to spoil Dad with: a one year subscription to Golf Digest.  Rewards Gold is offering a free subscription to Golf Digest.  To get this freebie, you will need to sign up with Rewards Gold.  You will periodically (very) get emails with new rewards available.  if you are a member already, filling out a small survey and referring a friend would do the trick.
Don't forget to get these other two freebies today:
Coupon for FREE bar of MARS chocolate (sign up available on Fridays only)
Free Burt Bee's Lipbalm to the first 1,000 to sign up everyday for the next 8 days.  I am yet to get lucky!
Happy Friday!