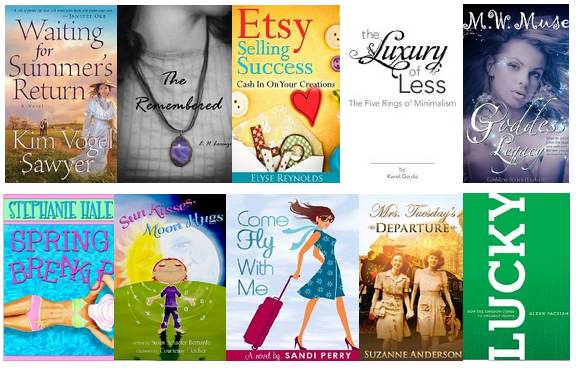 Thanks to my friend and fellow blogger over at Jessica's Coupons you'll be able to check out this huge list of free kindle books currently available. 
Please note that Amazon changes their offers without notice, so please make sure they are still free before you start downloading them:
Fiction
Mystery, Suspense & Action
DIVA (A Frank Renzi mystery)
Leashed (Going to the Dogs)
Secrets Hide Lies
Romance
The Mysterious Gift, A Novella
A SEAL's Seduction (Harlequin Blaze)
Forevermore (A Jewel Trilogy Novella)
Paranormal, Fantasy & Science Fiction
Deception (The Transformed)
Revenge of the Taken (Humble Walker Book 1)
Beneath the Black Moon (Root Sisters)
Karma Kitty Goes to Comic Con
Ten Crescent Moons (Moonquest #1)
Christian, Religious & Historical
Mrs. Tuesday's Departure: A Historical Novel of World War Two
Waiting for Summer's Return (Heart of the Prairie Book #1)
Shadows of Glory
Faded Coat of Blue
My Dear Sophy
Contemporary
A Very Important Guest
The Remembered
Come Fly With Me
Classics
The Wonderful Wizard of Oz
Non-Fiction
Etsy Selling Success: Cash In On Your Creations
The Power of Communication: Skills to Build Trust, Inspire Loyalty, and Lead Effectively
Luxury of Less: The Five Rings of Minimalism
Homemade Beauty Care! 30 Secret Natural Recipes To Creating A More Youthful Looking Skin!
Lucky: How the Kingdom Comes to Unlikely People
Facebook House: Insider tales of Mark Zuckerberg and his empire's tumultuous first days
Cookbooks
The Parthenon Cookbook: Great Mediterranean Recipes from the Heart of Chicago's Greektown
First, the Soup: Healthy Soup, Stew, and Chili Recipes (a Scrumptious Low-Calorie Recipes Cookbook)
Children's
Bunnies – A Rhyming Children's Picture Book ( Fun Ebooks For Kids ) (Fun Picture Books For Children)
Crosby the Crab
Great Kids In History
Otto the Grouchy Owl (A Picture Children's eBook for Ages 3-8)
Suri the Sea Lion
Sun Kisses, Moon Hugs
Preteens
Sharks – Beautiful, Real Photos and Fun Shark Facts for Kids (Discover the World's Most Amazing Animals Series)
The Last Voyage of the Mermaid
Young Adult
Goddess Legacy: Goddess Series Book 1 (Young Adult / New Adult Series)
Saving Wishes
Beyond Parallel
Spring Breakup (The Aspen Brooks Trilogy)
Fateful (Book #1 in the Fateful Series)
---
Remember that you do not need a Kindle e-reader to be able to read this book. You can read it on your PC, iPhone, iPad
, Blackberry and Android. Just download for free the appropriate application to be able to do that. Amazon changes prices without notice, so make sure to check that the kindle price it is still $0.00 before you start downloading this book.