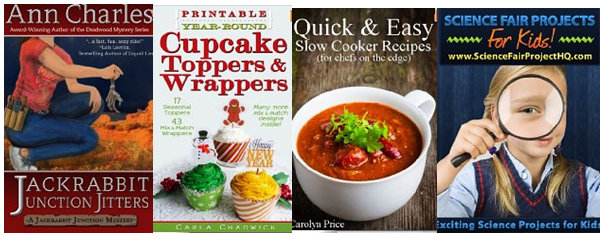 Here are a few books in kindle format that can be downloaded for free right now. Please note these kindle books are free to anyone at the moment. But Amazon changes their offers without notice. Please make sure it is still free before you start downloading it.  Here is what's available:
Fiction
Pride and Prejudice
Optical Delusions in Deadwood (Deadwood Humorous Mystery Series #2)
Collapse (New America-Book One)
I Think I Love You (a humorous romantic mystery)
Jackrabbit Junction Jitters (Jackrabbit Junction Humorous Mystery Series #2)
Storm Surge (A Jonie Waters Mystery)
UnEnchanted (An Unfortunate Fairy Tale)
Cookbooks
Quick & Easy Slow Cooker Recipes (for chefs on the edge)
Printable Year-Round Cupcake Toppers and Wrappers
Cheap Healthy Meals – Easy Vegetarian Recipes On a Budget (Vegetarian Cookbook and Vegetarian Recipes Collection)
Children
A Magical Disaster
Flying Girl (Egg and the Hameggattic Sisterhood – Book 1)
Little Buggies: A Rhyming Guessing Book For Little Ones (baby – age 5)
Goodnight Farm Animals
How To Milk a DinoCow!
Big Day For Baby
Cars and Trucks Around My Town
Adolescents
Secret Sisters: Volume Three
Invasion of the Blue Lights
Easy Science Fair Project Ideas for Kids
Camel Lot: A Misplaced Adventure
How to Survive The Hunger Games: A Brief Look at Katniss's Survival Strategy
Remember that you do not need a Kindle e-reader to be able to read this book. You can read it on your PC, iPhone, iPad
, Blackberry and Android. Just download for free the appropriate application to be able to do that. Amazon changes prices without notice, so make sure to check that the kindle price it is still $0.00 before you start downloading this book.
A Big Thanks to Jessica's Coupons!