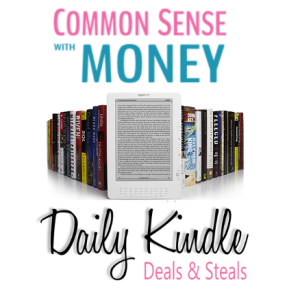 Every day Amazon offers a selection of Romance, Science Fiction, Fantasy and Teen titles at a discounted price.
Kindle Daily Deals – Each day they unveil new Kindle book deals for adults and young readers with prices usually ranging $1.99-$2.99. These are only discounted for today. 

Kindle Monthly Deals – Each month they unveil a new collection of 100 Kindle books for $3.99 or less.
Kindle Freebies – There are always Kindle freebies available. Many are only available for free for a limited time, so grab them while you can!
You can also get a short list of free and cheap ebooks delivered to your inbox each day when you sign up for BookBub. Here are  some of the freebies I've found today:
Business & Money
How To Rescue & Rebuild Your Credit Score
The Smart & Easy Guide To Crafts That Sell
Can I Borrow Yes you can – A Guide To Declutter Your Finances How To Borrow, Save And Invest For Your Future

More FREE in Business & Money…
Children's eBooks
Times to Remember, The Fun and Easy Way to Memorize the Multiplication Tables
The Snail Who Forgot the Mail

More FREE in Children's eBooks…
Cookbooks, Food & Wine
The Craft Beer Kitchen
Make Ahead Meals: Easy Freezer Recipes to Make Ahead for Cooking Breakfast, Lunch and Dinner Including Crockpot Freezer Meals

More FREE in Cookbooks, Food, & Wine…
Crafts, Hobbies, Gardening & Home
Sustainable Gardening: Essential Guide To Grow Your Own Organic Garden And Save Money Through Mini Farming (sustainable gardening, mini farming, organic … essentials, mini farming sustainably)
Make Your Own Body Butter: 32 Easy Body Butter Recipes (Homemade Body Butter)
The Ultimate Camping Guide for Beginners

More FREE in Crafts, Hobbies, & Home…
Mystery, Thriller & Suspense
Henry Wood: Edge of Understanding (Henry Wood Detective series Book 4)
The Final Arrangement

More FREE in Mysteries & Thrillers…
Parenting & Relationships
Caring For Your Child from Birth to Age Five
Happy Housewife Smart Guide: Top 5 problems with best recommended solutions
Divorcing Smartly: The End of a Marriage Isn't the End of the World

More FREE in Parenting & Relationships…
Religious and Spiritual
The Victorious Kingdom: Understanding the Book of Revelation Series Volume 3
The Gates Of Trevalyan

More FREE in Religion & Spirituality…
Romance
Waiting for You (Love in the Regency Book 1)
Say You Will (Summerhill Book 1)
The Good Life

Remember, though, that you do not need a Kindle e-reader to be able to read this book. You can read it on your PC, iPhone, iPad
, Blackberry and Android. Just download for free the appropriate application to be able to do that. Amazon changes prices without notice, so make sure to check that the kindle price it is still $0.00 before you start downloading this book.