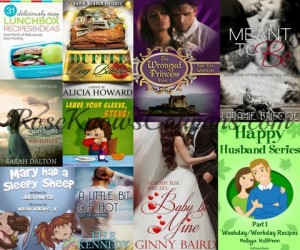 Every day Amazon offers a selection of Romance, Science Fiction, Fantasy and Teen titles at a discounted price.
Kindle Daily Deals – Each day they unveil new Kindle book deals for adults and young readers with prices usually ranging $1.99-$2.99. These are only discounted for today.

Kindle Monthly Deals – Each month they unveil a new collection of 100 Kindle books for $3.99 or less.
This list of free Kindle eBooks was created by Rose Knows Coupons. A big thanks to her for creating this list every weekday!
Contemporary & Romance 
Meant To Be (Heaven Hill Series)
Baby, Be Mine (Holiday Brides Series)
Dark Wings (Never Dark Book 1)
Falling for the Good Guy (Nice Girl to Love, Book Two)
A Little Bit of Hot (Out of Uniform) (Pre-order)
Historical
The Nuclear Suitcase (The Gantlet Brothers)
SEPARATE LIVES: THE STORY OF MARY RIPPON
Christian, Religious & Inspirational
THE SEAL (Rosicrucian Quartet)
10 People Every Christian Should Know (Ebook Shorts)
A Personal Guide to Self-Healing, Cancer and Love
Young Adult
Entanglement (YA Dystopian Romance)
Mystery, Suspense & Action
The Marathon Murders (Greg McKenzie Mysteries)
The Orphan's Tale – Book I (Malet's Story)
Paranormal, Fantasy & Science Fiction
The Wronged Princess – Book I (Cinderella Series)
Bone Dust & Beginnings (Alexa's Travels)
Homecoming (A Finn McCoy Paranormal Thriller #1)
Escaping Eternity (The Guardian Angels Series)
Home, DIY, & Crafts
Slippers – Easy To Make Crochet Pattern
Clever Crafts for You and Your Family
Homemade Soap Recipes (Start Making Soap)
Children's
Leave your sleeve, Steve! (Happy Motivated children's books Collection)
Give it back! (Conflict resolution for kids (for ages 3-8))
I Am The Codyman

Cookbooks
HOW TO COOK HEALTHY IN A HURRY: QUICK AND EASY LOW FAT RECIPES YOU CAN PREPARE IN 30 MINUTES-VOLUMES 1 & 2
The Easy Everyday Mediterranean Diet Cookbook: 60 Simple Mediterranean Recipes and Lifestyle Secrets for Weight Loss And Longevity
31 Deliciously Easy Lunchbox Recipes & Ideas
Buckwheat: The Ultimate Recipe Guide – Over 30 Healthy & Gluten Free Recipes
Weekday/Workday Recipes (Happy Husband Series)
Thanks, Rose Knows Coupons!