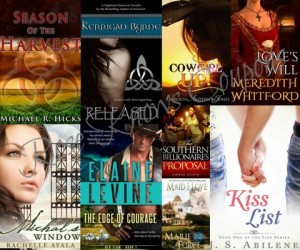 Every day Amazon offers a selection of Romance, Science Fiction, Fantasy and Teen titles at a discounted price.
Kindle Daily Deals – Each day they unveil new Kindle book deals for adults and young readers with prices usually ranging $1.99-$2.99. These are only discounted for today.

Kindle Monthly Deals – Each month they unveil a new collection of 100 Kindle books for $3.99 or less.
This list of free Kindle eBooks was created by Rose Knows Coupons. A big thanks to her for creating this list every weekday!
Contemporary & Romance
The Edge of Courage (Red Team)
Released (Highland Historical) (The MacKays #1)
Textual Encounters (The Christine + Jake Affair)
Maid for Love, The McCarthys of Gansett Island, Book 1
Fireblossom (The Western Novels)
The Southern Billionaire's Proposal (The Southern Billionaire Series)
Historical
A Mile in Their Shoes: Conversations With Veterans of World War II
The Nuremberg Trials: A Very Brief History
Christian, Religious & Inspirational
How to stop worrying and be happy : Positive thinking tips to know how to be happy (stop negative self talk and worry free book to read)
Michal's Window (A Novel: King David's First Wife)
Healer: The Pioneer Nutritionist and Prophet Dr. Hazel Parcells in Her Own Words at Age 106
Young Adult
The Fractured: Elena (The Fractured #1) (Blemished Series)
Mystery, Suspense & Action
Season Of The Harvest (Harvest Trilogy, Book 1)
Deadly Readings (Jenkins & Burns Mysteries)
The Ian Fleming Files: Operation Armada
The House of the Wicked (a psychological thriller combining mystery, murder, crime and suspense)
Paranormal, Fantasy & Science Fiction
Bloodlines (Demons of Oblivion)
The Clockwork Cathedral (The Time Corps Chronicles, Book 1)
King's Blood: Parts One and Two (Vampire Revealed and Vampire Unleashed)
Home, DIY, & Crafts
Simmer Scents: Stovetop Potpourri Recipes
Children's
Messy Mason (Happy Motivated children's books Collection)
The Mother's Day Gift (Noisy Farm – A Beautifully Illustrated Children's Picture Book, Perfect Bedtime Story)
Biographies & Memoirs
The Zombie, the Cat, and Barack Obama: Featuring appearances from The Illuminati, Osama Bin Laden, Larry the Downing Street cat, Queen Elizabeth II, the Cheshire cat and a host of characters.
A Great Sage and a Rascal Named Doku: A Book on Health, Wealth and Success
Cookbooks
Good Eating's Holiday Cookies: Delicious Family Recipes for Cookies, Bars, Brownies and More
Soups and Stews (Gourmet Ninja Guides)
Five Simple Steps To Cut Down On Sugar (Healthy & Tasty Series)
Snack & Sweet Recipes (Happy Husband Series)
Thanks, Rose Knows Coupons!