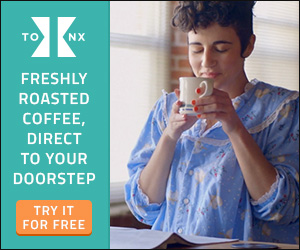 There's not much that's better than FREE coffee, in my opinion. Now you can get a free coffee trial when you sign up for a subscription with Tonx, who finds the best coffee beans they can and ships them within 24 hours of roasting them. With a Tonx subscription, you can get your first month's worth of tasty coffee for the low, low price of free.
To get your free coffee, just head over to the Tonx website and enter your email and new password to start a new subscription. On the next page, you'll be prompted to enter your mailing and billing information, and that's it. Tonx ships their samples throughout the week, so you should get yours shortly after you sign up.
If you choose to keep your subscription, you'll receive a 12oz bag of the tastiest coffee beans around every month. A subscription only costs $38.00 a month, and you can cancel any time. Hurry, because this offer could end at any time!
Find out how to get a FREE custom mug to go with your FREE coffee!