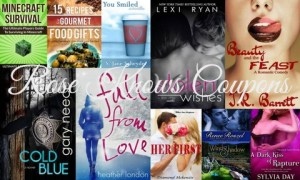 Every day Amazon offers a selection of Romance, Science Fiction, Fantasy and Teen titles at a discounted price. Kindle Daily Deals – Each day they unveil new Kindle book deals for adults and young readers with prices usually ranging $1.99-$2.99. These are only discounted for today.

Kindle Monthly Deals – Each month they unveil a new collection of 100 Kindle books for $3.99 or less. This list of free Kindle eBooks was created by Rose Knows Coupons. A big thanks to her for creating this list every weekday!
Contemporary and Romance
Dunstable Park House-A Victorian Time Travel Romance
My Mr. Rochester 1 (Jane Eyre Retold)
Resisting the Bad Boy (Nice Girl to Love, Book #1)
One Wild Night (Forever Wild #1)
Snow Dance (Dance 'n' Luv Short Story)
Historical
Blood in the Valencian Soil (Secrets of Spain)
Christian, Religious & Inspirational
The 7 Most Powerful Prayers That Will Change Your Life Forever!
Abba Calling: Hearing From the Father's Heart Everyday of the Year
Young Adult
Mystery, Suspense & Action
Kalorama Shakedown (Harry Reese Mysteries, Book 3)
Cold Blue (a Jonathan Thorpe novel)
Drifter – Book Four (The 1929 Series)
Paranormal, Fantasy & Science Fiction
A Dark Kiss of Rapture (Renegade Angels)
The Three Arks (Comet Clement series, #4)
Self-Help
Self-Discipline: Unlock the Power of Self-Control
101 Magic Conversation Starters: Always Say the Right Thing in Any Situation
21 Un-Procrastination Habits: How to Beat Procrastination Permanently and Get the Results You Want
Children's
Broken Shell Island, The Witches of West Shore
Children's Book: Eat Your Dinner, Becky Sue (A Rhyming Children's Bedtime Story Picture Book for Ages 2-8) (Little Sue Children Ebook Series)
A Monster Stole My Shoe (A Funny and Beautifully Illustrated Childrens Bedtime Rhyming Picture Book For Ages 2-8) (A Monster Stole My Shoe Series)
Minecraft Survival (The Ultimate Players Guide To Surviving In Minecraft)
Biographies & Memoirs
Conflicted Hearts: A daughter's quest for solace from emotional guilt
Cookbooks
Coconut Milk Recipes, Paleo Coconut Oil & Flour Recipes. Low Carb Paleo, Allergy Free, Dairy Free and Gluten Free Recipes (Paleo Recipes: Paleo Recipes … Lunch, Dinner & Desserts Recipe Book)
15 Recipes For Gourmet Food Gifts: Edible Handmade Gifts From Your Kitchen
Sugar Free Recipes: The Complete Guide to Breakfast, Lunch, Dinner, and More (Every Day Recipes)
I Love Brownies: The World's Best Brownie Recipes
Remember, a Kindle is not required to read these books! You can get a FREE Kindle app for your iPod/iPhone, PC, MAC, Blackberry, Windows Phone 7, Android, iPad, and Android tablet!

Remember, though, that you do not need a Kindle e-reader to be able to read this book. You can read it on your PC, iPhone, iPad
, Blackberry and Android. Just download for free the appropriate application to be able to do that. Amazon changes prices without notice, so make sure to check that the kindle price it is still $0.00 before you start downloading this book.
As always, thanks, Rose Knows Coupons!