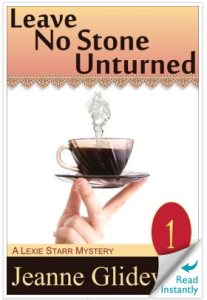 It's Free Friday for Nook book owners! Every Friday, you can download a free Nook book and Nook app. If you don't have a Nook, you can NOOK GlowLight for only $99 or download the free Nook reading app.
Today's Nook Friday freebie is Leave No Stone Unturned
 by Jeanne Glidewell.
In a fast-paced story packed with foolhardy action, Kansas library volunteer Lexie Starr drives to Schenectady, NY, in search of the truth about the murder of her son-in-law's first wife. This first Lexie Starr novel begins with a bang and ends on just the right note.
Here are some other Nook freebies you might be interested in today:
Don't forget to check out these deals each day: